Atlas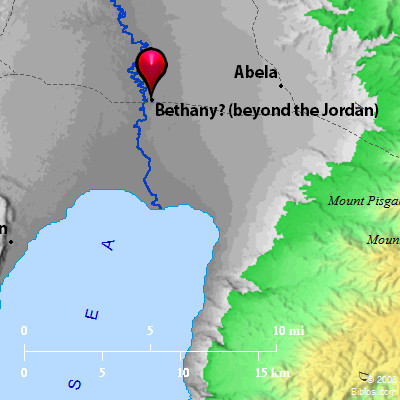 ---
Maps Created using Biblemapper 3.0
Additional data from OpenBible.info
---
You are free to use up to 50 Biblos coprighted maps (small or large) for your website or presentation. Please credit Biblos.com.
Occurrences
John 1:1
In the beginning was the Word, and the Word was with God, and the Word was God.
John 1:19 This is John's testimony, when the Jews sent priests and Levites from Jerusalem to ask him, "Who are you?"
John 1:28 These things were done in Bethany beyond the Jordan, where John was baptizing.
Encyclopedia
BETHANY
(2) "Bethany beyond the Jordan" (John 1:28; the King James Version Bethabara; Bethabara, a reading against the majority of the manuscripts, supported by Origen on geographical grounds): No such place is known. Grove suggested that the place intended is BETH-NIMRAH (which see), the modern Tell nimrin, a singularly suitable place, but hard to fit in with John 1:28; compare John 2:1. The traditional site is the ford East of Jericho.

E. W. G. Masterman