Atlas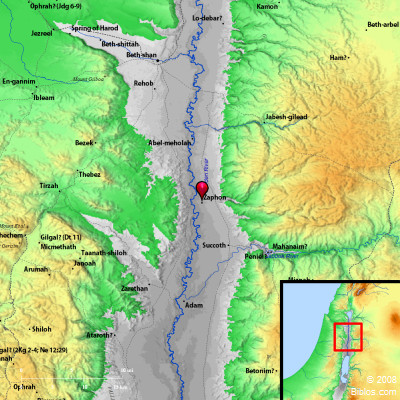 ---
Maps Created using Biblemapper 3.0
Additional data from OpenBible.info
---
You are free to use up to 50 Biblos coprighted maps (small or large) for your website or presentation. Please credit Biblos.com.
Occurrences
Joshua 13:27
and in the valley, Beth Haram, Beth Nimrah, Succoth, and Zaphon, the rest of the kingdom of Sihon king of Heshbon, the Jordan's bank, to the uttermost part of the sea of Chinnereth beyond the Jordan eastward.
Judges 12:1 The men of Ephraim were gathered together, and passed northward; and they said to Jephthah, "Why did you pass over to fight against the children of Ammon, and didn't call us to go with you? We will burn your house around you with fire!"
Encyclopedia
ZAPHON
za'-fon (tsaphon; Codex Vaticanus Saphan; Codex Alexandrinus Saphon): A city on the East of the Jordan in the territory of Gad (Joshua 13:27). It is named again in Judges 12:1 as the place where the elders of Gilead gathered to meet with Jephthah (tsaphonah should be translated "to Zaphon," not "northward"). It must have lain well to the North of Gad. According to the Talmud Amathus represented Zaphon (Neubauer, Geog. du Talmud, 249). Here sat one of the Synedria created by Gabinius (Ant., XIV, v, 4). It was a position of great strength (B J, I, iv, 2). Eusebius, Onomasticon places it 21 Roman miles S. of Pella. This is the modern Tell 'Amateh, on the south bank of Wady er-Rujeib, 15 miles South of Pella, and nearly 5 miles North of the Jabbok. Buhl (GAP, 259) objects to the identification that Tell 'Amateh corresponds to the Asophon of Josephus (Ant., XIII, xii, 5). But this objection does not seem well founded.

W. Ewing
---
ZA'PHON, e. of Jordan, now a ruin called Amateh, about 4 ms. s.e. of the sea of Galilee, see Josh. 13:27, this is supposed to be the site.
Strong's Hebrew
H6829: Tsaphon
"north," a place on the E. bank of the Jordan