Atlas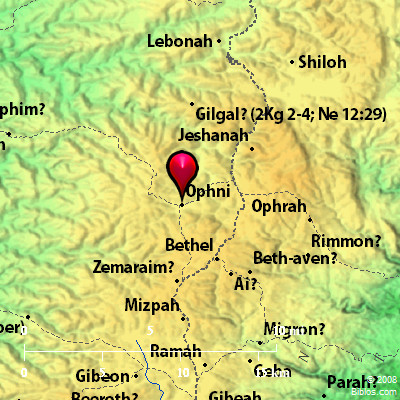 ---
Maps Created using Biblemapper 3.0
Additional data from OpenBible.info
---
You are free to use up to 50 Biblos coprighted maps (small or large) for your website or presentation. Please credit Biblos.com.
Occurrences
Joshua 18:24
Chephar Ammoni, Ophni, and Geba; twelve cities with their villages.
Encyclopedia
OPHNI
of'-ni (ha-`ophni; Aphne): A place in the territory of Benjamin (Joshua 18:24). The modern Jifneh, in a fine vale West of the road to Nablus and 2 1/2 miles Northwest of Bethel, might suit as to position; but the change in the initial letter from `ain to jim is not easy. This is the Gophna of the rabbis (compare Josephus, Jewish Wars, III, iii, 5).
Strong's Hebrew
H6078: Ophni
a place in Benjamin