Atlas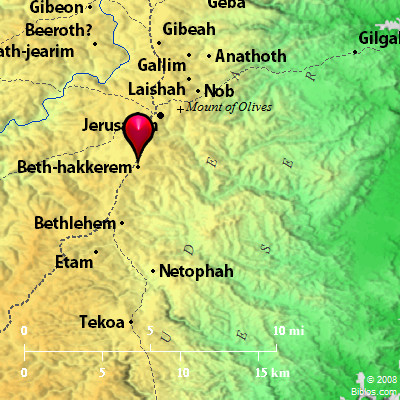 ---
Maps Created using Biblemapper 3.0
Additional data from OpenBible.info
---
You are free to use up to 50 Biblos coprighted maps (small or large) for your website or presentation. Please credit Biblos.com.
Occurrences
Nehemiah 3:14
The dung gate repaired Malchijah the son of Rechab, the ruler of the district of Beth Haccherem; he built it, and set up its doors, its bolts, and its bars.
Jeremiah 6:1 Flee for safety, you children of Benjamin, out of the midst of Jerusalem, and blow the trumpet in Tekoa, and raise up a signal on Beth Haccherem; for evil looks forth from the north, and a great destruction.
Encyclopedia
BETH-HACCHEREM
beth-ha-ke'-rem, beth-hak'-e-rem (the King James Version Beth-haccerem; beth ha-kerem; Bethachcharma (see DB), "place of the vineyard"): A district (in Nehemiah 3:14) ruled over by one, Malchijah; mentioned in Jeremiah 6:1 as a suitable signal station. From its association with Tekoa (Jeremiah 6:1) and from the statement by Jerome that it was a village which he could see daily from Bethlehem, the Frank mountain (Herodium) has been suggested. It certainly would be a unique place for a beacon. More suitable is the fertile vineyard country around `Ain Karem (the "spring of the vineyard"). On the top of Jebel `Ali, above this village, are some remarkable cairns which, whatever their other uses, would appear to have been once beacons. `Ain Karem appears as Carem in the Septuagint (Joshua 15:59).

See BETH-CAR.

E. W. G. Masterman
---
BETH-HACCEREM (pron. hak'-se-rem), probably the Frank mountain, 4 ms. s.e. of Jerusalem. Neh. 3:14, Jer. 6:1, are the only references.
Strong's Hebrew
H1021: Beth Hakkerem
"vineyard place," a place in Judah